Gender Pay Gap Report
Introduction
Aspers (Stratford City) Limited (Aspers Stratford) is part of Aspers UK Holding Limited (AUKH) and operates a Casino at Westfield Stratford City.
Aspers Stratford employs just under 350 people and is reporting on the gender pay gap as AUKH's only site that falls under the reporting requirements of the Gender Pay Gap Information Regulations.
As part of AUKH, we are proud to be a socially responsible employer and are committed to equality of opportunity for all our employees, providing a safe and comfortable working environment.
This report provides information on the gender pay gaps at Aspers Stratford, looking at the causes for gaps and strategies that are used to narrow gaps.
Our basic data:
Ratio of male/female employees: 60/40
Total number of employees: 341
(Note: Tronc payments are excluded as they are outside the company's control.)
How we measure the pay gap
As an employer, we are looking at the gender pay gap and various aspects of the gap in keeping with the reporting requirements. We analyse the differences in the average pay between males and females, and the gender breakdown in the different roles employed by Aspers Stratford. The figures set out within the report have been calculated using the methodologies used in the Equality Act 2010 (Gender Pay Gap Information) Regulations 2017.
Please note – the latest guidance issued by the UK Government has the potential to significantly impact our calculations as only 35 out of 341 employees comply with the criteria below:
"When to exclude full-pay relevant employees
You must not count any employee as a full-pay relevant employee if they are paid less than their usual basic pay or piecework rate, or none at all, because of being on leave during the pay period in which the snapshot date falls (the relevant pay period). They would still count as relevant employees. Exclude from your list of full-pay relevant employees, those on 'leave', and who are receiving less than full pay, including those on:
annual leave
maternity, paternity, adoption, parental or shared parental leave
sick leave
special leave
furloughed leave under the Coronavirus Job Retention Scheme, unless their pay was topped up to their usual full pay
any other forms of leave (for example, study leave or sabbaticals)"
In line with legal requirements, please see the following Gender Pay Gap analysis for Aspers Stratford:
The difference between the MEAN hourly rate of pay of male full-pay employees and that of female full-pay employees is (-27%)
The difference between the MEDIAN hourly rate of pay of male full-pay employees and that of female full-pay employees is (-20%).
The mean gender pay gap for the whole economy according to the Office for National Statistics (ONS) Annual Survey of Hours and Earnings (ASHE) figures) is 7.9%, while the median gender pay gap for the whole economy is 15%.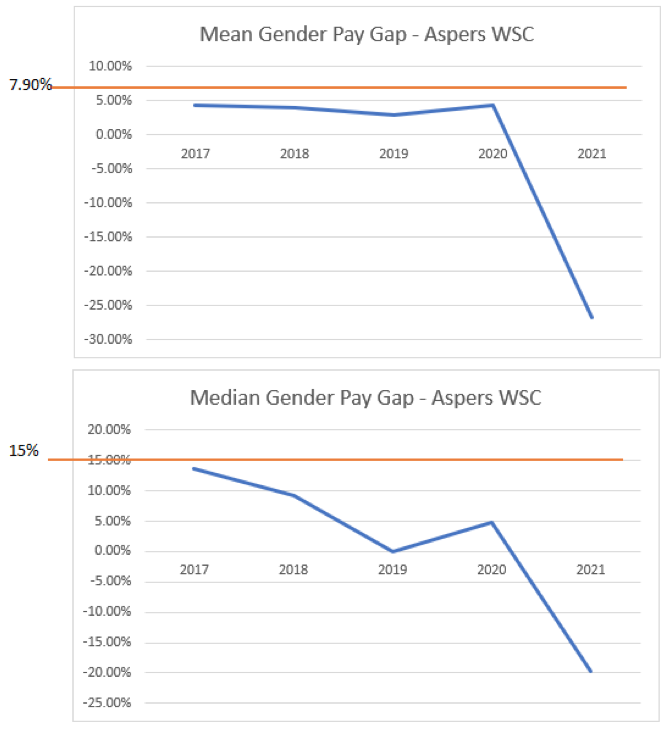 We are dissatisfied with our gender pay gap, even though an argument can be made that it compares favourably with the wider economy, and we are committed to doing everything we can to reduce the gap. We are confident that our gender pay gap is not because we pay men and women differently for the same or equivalent work. Instead, our gender pay gap is because men and women work in different roles and those roles have different salaries.
The difference between the MEAN bonus pay paid to male employees and that paid to female employees is (20%).
The difference between the MEDIAN bonus pay paid to male employees and that paid to female employees is (28%).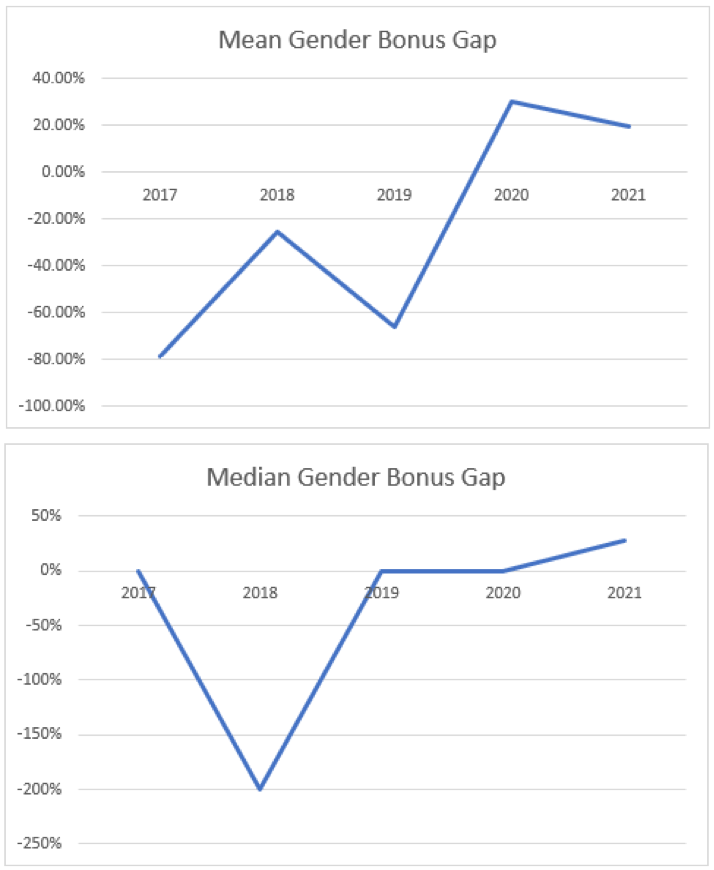 Our mean and median gender bonus gaps appear to be significant at 20% and 28% respectively. However, if we convert these percentages to cash amounts, the actual total cash difference is below £250.
The proportions of male and female employees who were paid bonus pay.
| | | | |
| --- | --- | --- | --- |
| Female | 135 | 3 | 2.22% |
| Male | 206 | 2 | 0.97% |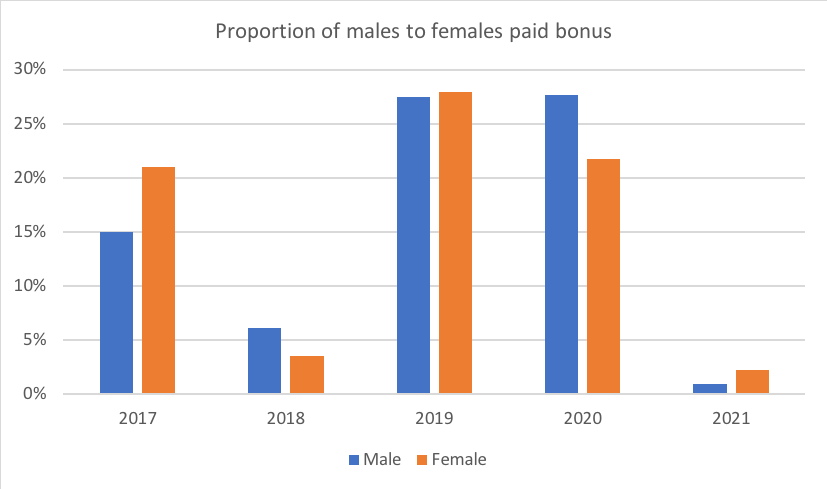 The impact of the COVID19 pandemic on the business performance of the Company is reflected in the percentage of colleagues receiving bonuses.
• The proportions of male and female full-pay employees in the lower, lower middle, upper middle, and upper quartile pay bands.
| | | |
| --- | --- | --- |
| Lower Quartile | 87.5% | 12.5% |
| Lower Middle Quartile | 66.7% | 33.3% |
| Upper Middle Quartile | 55.6% | 44.4% |
| Upper Quartile | 55.6% | 44.4% |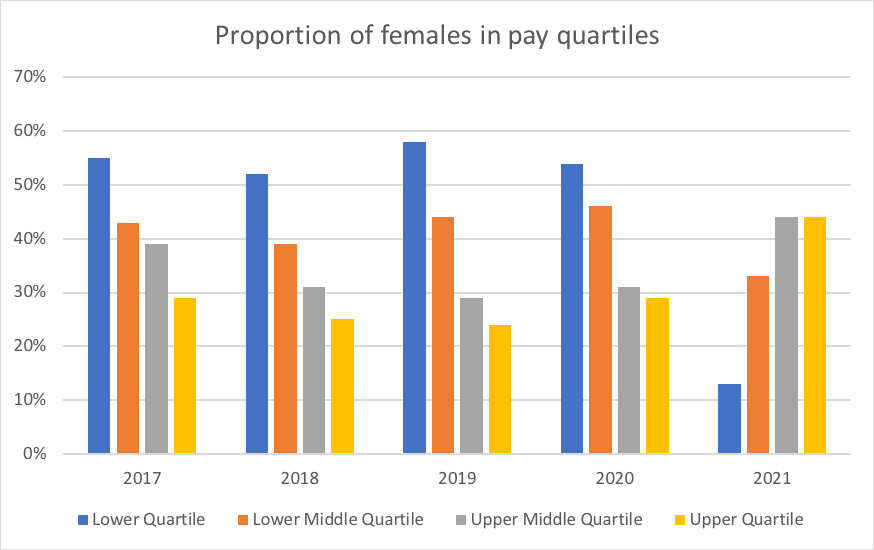 What's behind the pay gaps?
We actively investigate the reasons for disparities in pay, and how we can close the gap.
The mean at -27% and the median at -20% figures are not representative of the actual employee population and are reflective of a sample size (35 employees) which is merely 10% figure of the entire team of 341 colleagues.
What we are doing to address the gender pay gap
We continue to be mindful of the gender pay gap and actively look at ways to address it through:
Recruitment – We have seen the number of female personnel remain static in comparison to the male representation. We recruit through a broad range of avenues and continue to encourage third-party service providers to put forward more female candidates for middle and senior management roles. The core business roles of experienced croupiers are predominantly male within the industry and as a business we are committed to actively recruiting for trainee croupier schools with a focus on female role attraction.
Flexible Working – We offer a wide range of shift patterns and hours of work and will continue to promote this. The opportunity for flexible working options for those who may not want traditional working hours will continue to be promoted.
Learning and Development – We are committed to providing blended and e-learning learning and development opportunities.
Succession Planning – We shall continue to publicise success stories within the organisation so that we demonstrate equality, representing role models for all of our employees.
Statement:
I confirm that the information and the data provided in this report are accurate as of 5 April 2021, which is the 'snapshot' date.
Signed:

Director
Date of publication: 11 April 2022